Bill and Shelley Morgan grew up in Westerville and graduated from Westerville High School in 1973. Shortly thereafter, Bill entered into a career in the corporate world, where he worked for nearly 2 decades. In 1989, Bill took a class on the lost wax casting method at the Columbus Cultural Arts Center. His interest soon became a passion and he spent the next 10 years working out of his at-home studio, carving and casting waxes into jewelry.

In 1998, Bill decided to part ways with his corporate job and began working at a local jewelry store as a bench jeweler. It was there that Bill perfected his skills and developed his personal style of jewelry design.

In 2005, Bill completed the classes required by the Gemological Institute of America (GIA) to become a Graduate Gemologist. In September of 2006, Bill and his wife Shelley opened Morgan's Treasure in Uptown Westerville. They are both members of the Westerville Uptown Merchants Association, Westerville Area Chamber of Commerce, Westerville Visitors Bureau, and The Ohio Jewelers Association.

Liandra was first introduced to jewelry making while studying Fine Art at Columbus College of Art and Design. She began her work at Morgan's Treasure in 2012, and found Bill to be an excellent mentor as she developed and honed her skills on the job.

Liandra loves to work with metal and design with unique gemstones. She finds her work very fulfilling, whether she's designing a one-of-a-kind piece of wearable art, or working on the simplest repair. She is drawn to the sentimental nature of jewelry and understands that each piece may mean the world to its wearer.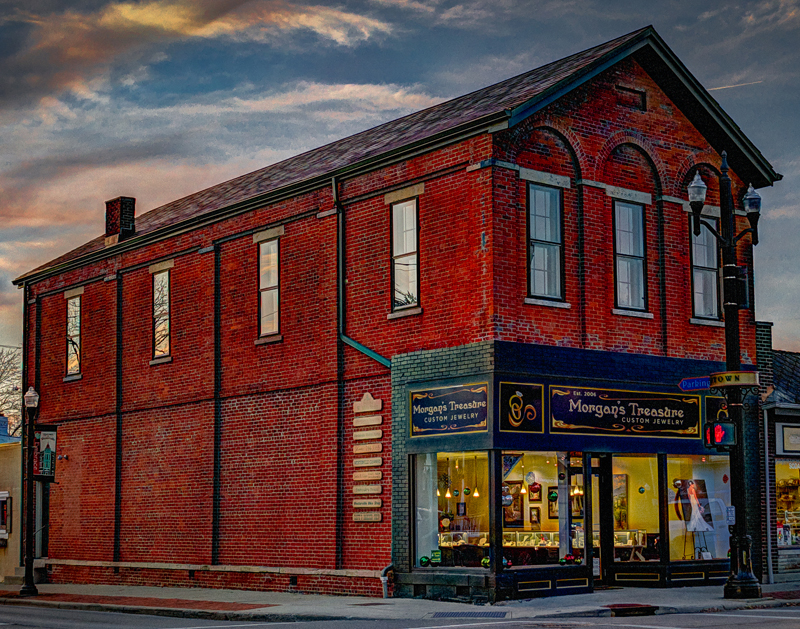 We're The Uptown Jeweler - Stop by and see us soon!
31 North State Street
Westerville, Ohio 43081
(614) 882-4401