Jewelry Repair in Columbus, Ohio
Get the best jewelry repair and professional jewelry services in Columbus, Ohio!
We provide professional jewelry services and expert repair in-house.
 We understand that your jewelry is very important, and we will treat it with care and respect.
Experienced Jewelry Repair Experts in Columbus, Ohio!
Morgan's Treasure, located in Columbus, Ohio, is your trusted destination for expert jewelry repair in Columbus, Ohio services. With a team of skilled artisans and craftsmen, we specialize in precision repairs for your most precious pieces. Whether your cherished jewelry requires resizing, re-tipping, or gemstone setting, our experienced team is dedicated to restoring your items to their original brilliance.
Our services extend beyond traditional repairs. We offer custom design and redesign solutions, allowing you to bring your unique jewelry visions to life or reimagine inherited pieces into personalized creations. We excel in various gemstone setting styles, from classic to modern, and can confidently replace diamonds and most colored gemstones, ensuring your gems are secure and beautifully displayed.
Preserving the legacy of your family's jewelry is of utmost importance to us. We specialize in the restoration and evaluation of inherited and estate pieces. Trust Morgan's Treasure to breathe new life into your treasured heirlooms while providing you with accurate assessments of their worth. Additionally, our care and maintenance services, including chain repairs, professional cleaning, and polishing, help keep your jewelry in Columbus, Ohio looking its best.
We also offer ring sizing and prong services, ensuring that your rings fit perfectly and securely hold your precious gemstones. Plus, to make quality jewelry repair in Columbus, Ohio accessible, we provide flexible financing options, so you can keep your treasured pieces in impeccable condition without breaking the bank. Morgan's Treasure is your dedicated partner in maintaining and enhancing the beauty and durability of your beloved jewelry.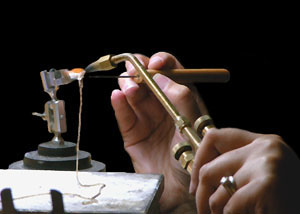 Our Jewelry Repair Services
Morgan's Treasure offers a comprehensive range of jewelry repair services, from custom design and resizing to gemstone setting, restoration of heirlooms, and expert evaluation, ensuring the preservation, beauty, and longevity of your precious jewelry.
Custom Jewelry Design
At Morgan's Treasure, we turn your dreams into reality with our custom jewelry design services. Work closely with our expert artisans to craft unique pieces that reflect your style and vision. Whether it's an engagement ring that symbolizes your love story or a personalized gift, our designs are tailored to your individuality.
Repairs on Precious Metal Jewelry
Is your precious jewelry in need of some TLC? Trust us for meticulous repairs, where we restore the beauty and integrity of your cherished pieces. From fixing broken chains to soldering worn-out clasps, our experienced craftsmen handle every repair with precision and care.
Restoration and Redesign of Inherited Jewelry
Preserve the sentimental value of inherited jewelry by restoring and redesigning it. Our skilled craftsmen breathe new life into heirlooms, making them a part of your story. Whether it's turning an old family pendant into a modern necklace or reusing gemstones in a new setting, we bring your heritage to life.
Ring Sizing
Achieve the perfect fit with our professional ring sizing service. Ensure your rings are as comfortable as they are beautiful. We provide expert sizing to ensure your rings are neither too tight nor too loose, giving you the ideal fit.
Ring Re-Prong and Re-Tip
Protect your precious stones with our ring re-prong and re-tip services. We ensure the security of your gemstones, restoring their brilliance. With meticulous attention to detail, we carefully reinforce your ring's prongs, securing your diamonds and gems.
All Types of Gemstone Setting Styles
No matter the gemstone setting style, we have the expertise to handle it. Trust us with the setting, repair, or replacement of your gemstones. From classic prong settings to bezel, pave, or channel settings, we excel in enhancing the beauty of your gemstones.
Replacing Diamonds and Most Colored Gemstones
Bring back the sparkle to your jewelry by replacing diamonds and colored gemstones. We match your previous stones' quality and appearance. When it's time to replace a lost or damaged stone, we'll assist you in choosing a high-quality gem that seamlessly blends with your existing jewelry.
Jewelry Remounting
Give your jewelry a fresh look by remounting it. Our skilled craftsmen create new settings that complement your precious stones beautifully. Whether you're looking to update a dated design or transform a solitaire into a more intricate piece, we're here to execute your vision.
Chain Repair
Restore broken or damaged chains to their original splendor. Our chain repair services ensure your necklaces and bracelets are as good as new. We offer a wide range of chain styles and can expertly match your chain's design for a seamless repair.
Professional Inspection, Cleaning, and Polishing
Keep your jewelry looking its best with our professional inspection, cleaning, and polishing services. We'll make your pieces shine like new. Our thorough inspection not only ensures the structural integrity of your jewelry but also identifies any potential issues, preventing future damage.
Evaluation of Estate Jewelry
If you're curious about the value of your estate jewelry, we provide professional evaluations to help you understand its worth. Whether for insurance purposes or out of sheer curiosity, our appraisals are conducted by experts who understand the intricacies of evaluating jewelry.
Financing Available
At Morgan's Treasure, we make your dreams more accessible with financing options for your jewelry needs. Your perfect piece is within reach. Our financing plans are designed to accommodate your budget, allowing you to acquire the jewelry you desire with ease.
We're The Uptown Jeweler – Stop by and see us soon!
31 North State Street Westerville, OH 43081 (614) 882-4401